You are a happy entrepreneur. Maybe you have an idea, or you are just fascinated by the idea of starting your own business. You are willing to take risks, such as leaving your current job or agreeing to live without personal income for a while. But there is a slight obstacle that stops you: you do not have much money. Nada, Wallou, Niet. #Crisis
At first glance this seems to be a major problem, but a lack of personal capital should not stop you from pursuing your dreams. In fact, it is entirely possible to start and grow a business without any personal financial investment (almost possible), if you have ideas and you know what you are doing. When we do not have oil, we have ideas.
Why does a company need money?
First, one must understand why a company needs money? There are no established rules. All companies are different, so they have different needs. The first estimate is important because it will determine your strategic choices.
We need money to:
Statutes and formalities of creation.
Equipment. Do you need specialized machines or software? Domain name…
Offices. This is a huge expense, and you can not neglect things like internet, electricity … even though in many incubators this is free.
Operating expenses. Dig in the nooks and crannies here, and do not forget about marketing.
Legal fees. Do you consult a lawyer throughout your business development process?
Employees and contractors. If you can not do it alone, you will need collaborators … and they will not all volunteer.
And still full of other expenses …
Start your startup without money
That said, you have two solutions to start with no money, the first is to reduce your costs or increase your available capital from outside sources. You have three options:
Option 1: Reduce your needs
This is logic, but if you do not need a lot, you will not spend a lot of money. Logic, I told you. The first solution is to develop a business model that does not require too much money. Forget about the automotive industry. For example, if you have decided to start a personal coaching business, you can reduce your expenses by positioning yourself as a marketplace for coaches. You can work from home even if I advise against it.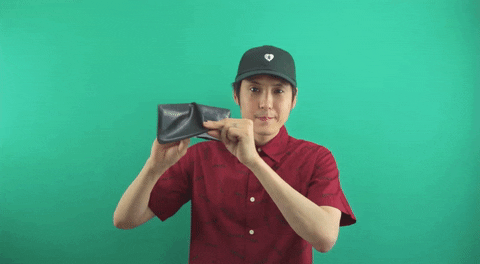 There are some expenses that you will not be able to avoid. Domain name, legal fees … Many entrepreneurs start with less than 3000 € according to the PACE.
Option 2: Bootstrap
The second option is to do some sort of testing phase for your business. Instead of heading first, you start with the basics, a website, a prototype … You can start a blog and a niche service, you test on a small audience. If you can start self-employed, you will avoid some of the biggest initial costs (and enjoy a simple tax situation, too).
Once you start realizing the turnover, you can invest and build the business you imagined. Step by step, rather than all at once. The idea is really to get by to finance each time the new need appears. #Resourcefulness
Option 3: Outsource
The third option is to get funding from outside sources. There are dozens of ways of raising capital, and I am not talking about the Blablacar millions, but just about the ones that allow you to get started.
Here are some possible sources for you:
Friends and family. Do not rule out the possibility of getting help from friends and family, even if you have to replenish the capital from multiple sources. A kind of puzzle, but with tickets.
Crowdfunding. Do not start without a validated and validated value proposition, but you can appeal to it. Read our article to get your campaign right.
Grants and government loans. Subsidies exist only to help small businesses grow. Many offer loans and grants to get you started.
Bank loans. On a misunderstanding it can pass.
With one or more of these three options, you should be able to reduce your personal financial investment to almost nothing. Basically, you create your box with the money of others. But be careful not to do anything. You may have to make a few other sacrifices, such as starting small, accepting debt, but if you believe in your business idea, nothing should hinder your path. Capital is a major hurdle to overcome, but do not get me wrong – it can be.